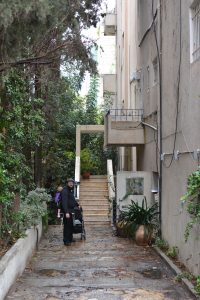 1. To find a place to stay in Israel for a month, we used Airbnb and we checked in with a friend of ours who knows Israel well to make sure that it was in a safe location. The apartment that we found is in Rehavia, which is a very nice and very safe neighborhood, within walking distance to pretty much everything in Jerusalem. According to the host's profile, he offers 6 holiday apartments in the same building in Rehavia. And he also lives in the same building, which was very helpful for someone like me, who managed to lock ourselves out of the apartment a few times.
Here is the link for the apartment we stayed in, if you've not used Airbnb before, click here first to get a $40USD discount:
2. If traveling with a baby in diapers, bring one of these. It was impossible to find any changing stations and the floors in the bathrooms are not usually a place I'd want to lay my baby down.
3. Also, when traveling with a baby or toddler, make sure to bring a good baby carrier. We have the Infantino Roam and it worked very well. The carrier shown here is another highly rated Infantino carrier.
4. Strollers can be walked up to the plane, and they will store them for you and return them to you when the plane lands. Luckily they do not count as luggage. This stroller held up with all our walking for the whole month, and we highly recommend it.
5. For shopping and schlepping back to your place, one of these would come in handy.
6. To buy the tickets, we used DreamTrips and were able to get 2 checked bags each plus one carry on for each of the 3 of us. I know that's way more luggage than most people would need but we were staying for a month and really wanted it so we could bring stuff back.
7. On your way home, make sure you have enough layover time to go through customs. We had about an hour and a half layover time in Boston. El Al was late and by the time we even got to the one massive line for customs, our other plane was leaving. Then we had to wait at the airport with a cranky 2 year old for another 12 hours. Don't do it, plan ahead. Or you could have your connecting flight in Europe so that you will not have to do customs until you reach your final destination in the US.