Recently we've been reading Mooncake. It's actually a book that my mom gave me from when I was a child. So I thought it would be fun to make moon sand for my daughter.
Ingredients:
1 cup oil

(preferably plant-based, but you could also use baby oil)

Food coloring

(optional, still had plenty of fun without it)

Items for play, such as:
Directions:
Thoroughly mix together the flour and the oil by hand. Let the kids help. Add more flour or oil depending on the consistency you want. It should be soft and easy to mold.

Add food coloring. I tried adding blue food coloring and ran out. Apparently, you need a lot if you actually want it to change color.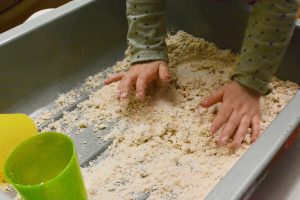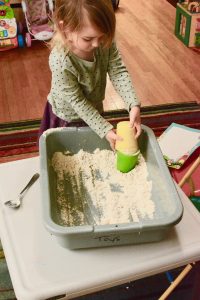 So I actually made half of the recipe because it seemed like a lot, but in the future, I will make a full batch.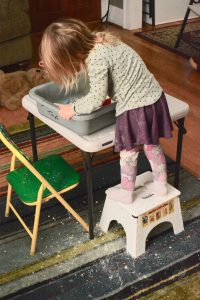 Although this was so much fun and totally worth it, it was pretty messy, I would set it up over a carpeted area that you can easily vacuum. The oil in it seemed to make the kitchen floor slippery, so I think that would be harder to clean up. Also, I would recommend not doing this close to Pesach.
This is a great activity for toddlers because the modeling and molding help to develop fine motor skills. It kept my daughter busy for a long time. You should give this easy activity a try!