The summer got busy for whatever reasons and we ended up spending a lot of time in our own backyard. And it was perfect.
Hanging out in your own backyard is so easy and underrated. All you need is something simple like a ball to play catch, or a cheap pool to cool down in.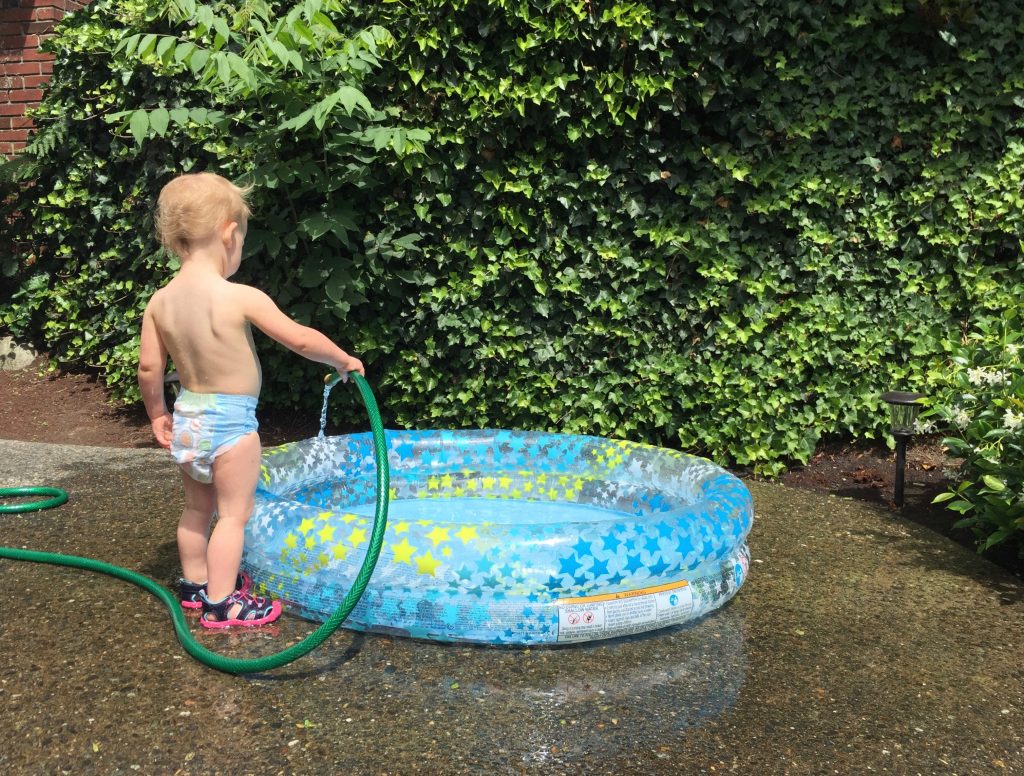 You don't have to drive half an hour to get there. When you're done you can just walk right back inside. No searching for bathrooms or having to use gross public parks restrooms.
You don't have to pack up anything like lunch, snacks, or even a diaper bag. You could even invite over friends from the neighborhood.
The only downside for me is my OCD tendencies and finding myself thinking of everything I need to do at home. Which let's be honest, with children at home most of what you want to get done isn't going to get done.
I'm learning this summer that you don't have to seek out the extraordinary or pay lots of money to entertain your kid. Most kids (there are exceptions of course) are pretty easy to entertain and most just enjoy anything that involves activity and especially being outdoors.
All you really need is to find a couple simple things to do in your area, something that you and your kid both enjoy, and then rotate through those activities.
What can you do in your own backyard? Well, you could google "activities for your backyard", but I feel like most of what's out there is pretty intense. Here are some simple and easy ideas:
Bubble machine

or really any sort of bubble thing

Have a picnic. If you don't have a

picnic blanket

, all you really need is a towel or regular blanket to sit on and some snacks, it doesn't have to be anything fancy. Your kids will still love that it's fun and different.

Kiddie pool.

These are actually pretty cheap and easy to set up and maintain.

I recommend buying an

air pump

and a

pool cover

to keep out bugs and leaves when not in use. Also, do not leave kids unattended, obviously.

If you don't want to buy a pool, a

sprinkler

is another option.
That's it! I'm sure there are many other things you can do in your own backyard, you just have to use your imagination. 
Comment below with the things that your kids love to do in your own backyard!