Vancouver is a beautiful city located near the coast on the southwest corner of Canada. The weather, temperature, and picturesque scenery is very similar to Seattle. Because of its variety of scenery, many television shows are filmed in the town.
Located just 142 miles, or a little under 3 hours drive, north of Seattle. Many local Seattle Jews like to make the trip to Vancouver occasionally mainly for the kosher meat restaurants.
We made a trip back in May 2015, while my husband was about to start a new job and our daughter was just a little over 3 months old. It was so nice to get away from home for a while and to see a new city.
To cross the border, I had an enhanced license from Washington, my husband had his passport, and for our daughter, we just needed her birth certificate. You will want to do some research before crossing because depending on the child's age, and other factors such as if you are crossing in a borrowed car or rented car, you may need better documentation.
Lodging
We stayed at an Airbnb. If you've not used Airbnb before, click here first to get a $40USD discount. This was the first time we used Airbnb, and the reason we initially looked into it was because the hotels in Vancouver were so expensive. Airbnb ended up being a lot cheaper and a lot nicer than any hotel we could afford.
It was a beautiful apartment with a breathtaking view. Located on the 35th floor with floor to ceiling windows which overlooked the marina, mountains, and downtown Vancouver. Conveniently located in Yaletown, within walking distance to pretty much everything you could need. We found it nice and close to a park and a brewery. But since we only eat at Kosher restaurants, we had to drive about 5-10 minutes to those.
Kosher Food Options
Since the reason most Seattle Jews go to Vancouver is for the kosher meat restaurant, Maple Grill, we stopped there first. I hate to say this but I have to be honest, we weren't very impressed. Maybe it was the time of day we went, maybe it's because my hubby is a great cook and we've become food snobs. I don't know. Either way, it didn't live up to our expectations. Perhaps the next time we go we'll give it another try because most of our friends seem to really enjoy it.
The place we do highly recommend is Classic Impressions Catering, which is the catering part of The Kosher Food Warehouse. You just go online to her website (click on the "Tourist Menu" if you're on the main site – or go directly to this link: http://catering.kosherfoodwarehouse.com/ordering.php) place your order and let her know when you want it, and she will deliver it all to you. When we ordered from her, we didn't plan ahead and kasher our oven so we didn't have a way to warm up the meal. But even though the meal was cold, it was very delicious.
Omnitsky's was also very good for breakfast or lunch. All the other restaurants were ok, but not much to say about them. Perhaps we need to make another trip. Check out BC Kosher for all the kosher restaurant listings, and Cafe Forty One which is a part of the Chabad Lubavitch BC.
All of these restaurants were about a 10-minute drive from where we stayed.
Things to do
Honestly, on this particular visit, we didn't do a lot of sightseeing because we were new parents with an infant and really just wanted to get away from town and relax for a couple of days.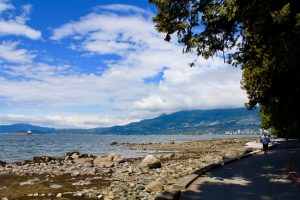 We did find Stanley Park to be a nice place to walk and sightsee. This huge park borders downtown Vancouver. The walking/bike trail mostly runs along the beach and the Vancouver seawall. It was very beautiful and scenic. There were people walking, rollerblading, and biking. We noticed a swimming pool, which was not open at the time of the year, but it looked like a nice pool. The whole trail around the park is about 9km, or 5.5miles. But the pathway itself isthe world's longest uninterrupted waterfront path, at 28km – see http://vancouver.ca/parks-recreation-culture/seawall.aspx for more info. If we visit again, at the right time of year, I would like to ride the Urban Forest Train which goes through the park.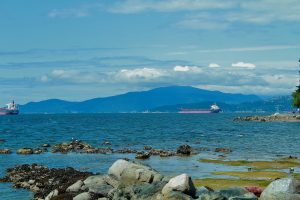 We also shopped a lot, probably because it was rainy season and at the time I also needed some postnatal clothing that actually fit.
Kid-Friendly things I'd like to do/see next time:
Have you been to Vancouver, BC or do you live there? Please comment below if you have other tips/suggestions on things to see and do in Vancouver.