We first started going blueberry picking when our daughter was about 18 months old. We loved it, and she loved it. She got to be outside and eat blueberries, plus we had a surplus of delicious healthy blueberries when we were done. My husband ended up picking most of those though, our daughter and I just played around and ate a few blueberries (most farms really don't mind if kids eat while they pick). But by the next year, she was wanting to help and pick her own blueberries.
There are U-pick farms pretty much everywhere. Even growing up in Montana, a childhood memory of mine is going to pick cherries. The thing in Seattle seems to be berries.
A few tips: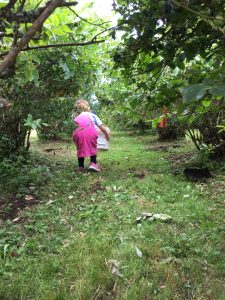 Call ahead or check the farm's website to make sure they are open on the day you are planning to go. Also in the rural areas sometimes google maps doesn't work so well. So while you're checking openings, check for directions.

Going earlier in the day or later in the afternoon can help you avoid the crowd and maybe avoid some of the harsher sun.
Things to consider bringing with: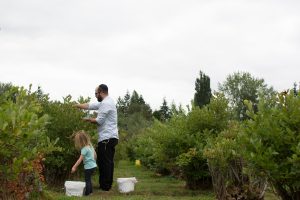 Your own pails/buckets. I've heard some places will charge you to use theirs. I don't think any place we've
been to has though. Maybe just call or check the farm's website prior to going.
Cash. Some of the farms will accept credit/debit, but some don't accept plastic at all. Plus sometimes you can jump to the front of the line if you are paying with cash.
Sunscreen, hats, and even sunglasses. Most berries are planted in full sun. Even among the blueberry bushes, it's easy to get a sunburn. Or maybe that's just me and my Irish-ness. But better safe than sorry.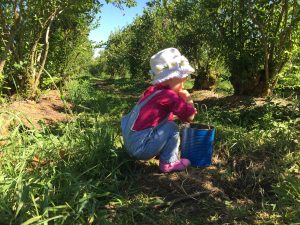 Water. Obviously being out in the sun and heat you want to keep everyone well hydrated. 

Easily visible clothes for the kids (bright-colored or white). This will hopefully help you keep better track of the kids.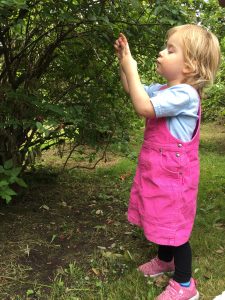 Change of clothes for the kids. And some wet wipes for all of you. Kids will be kids and will naturally end up being dirty after being outside in the fields. Or berry juice will get on someone somehow. This will make the ride home so much more comfortable for everyone.

A small stool or gardening pad. This is really only if you're picking low fruit like strawberries. Your knees and back will thank you. Wow, I'm getting old.  At the blueberry farms we usually just grab 2 buckets, if you need to sit you can dump all the blueberries into one bucket and sit on the other one.
Wear closed-toe shoes. You'll be out in the field, things can get messy and poky out there.
Above all, if you're going berry picking with kids keep your expectations low and just plan on having fun. If all else fails, you can usually buy already pre-picked berries at U-pick farms.
Where are your favorite picking spots? Please comment below!