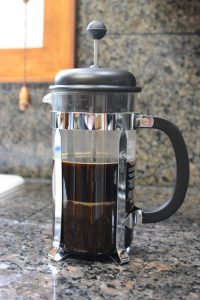 Coffee concentrate (or essence) comes in handy when you are tired of instant coffee and want some actual good tasting coffee on Shabbos. Or, it is also good when you want to serve coffee to a crowd without having to be in the kitchen brewing coffee while everyone else is having a good time. Or maybe that's just me… an avid Aeropress user.
This recipe was perfected with the help of some friends of ours, who always have a hot cup of delicious coffee ready for guests after a nice Shabbos meal. They also roast their own beans, so if you are ever in the neighborhood and looking for the best coffee beans ever, let me know and I'll get you in touch with them.
This coffee will turn out just as good, flavorful, and mellow as a freshly brewed cup. It doesn't involve a lot of equipment or tools. Really, all you need is a good French Press, coffee, and another jar to store the finished product in.
Ingredients
16 Tbsp, or 8 coffee scoops of your favorite coffee, coarsely ground

6 cups water, plus more for serving
Equipment
Add the 8 coffee scoops of coarsely ground coffee to the French Press.
Boil the water and add 6 cups of water to the French Press.

Stir.

Let sit until cool.

Stir again.

Then press the filter down.

Voila- coffee concentrate.
*If you want to make a smaller amount, for each cup you will want use 1 coffee scoop to ¼ cup water.
*If you are using this for Shabbos, make sure to place in a new container to avoid borer. Also, I suggest taking the essence out of the fridge prior to adding hot water. This will ensure that it is a hotter cup of coffee than by just adding hot water to the cold essence.
When ready to drink, use about a 1:2 ratio, or ⅓ cup of coffee essence to 1 cup hot water.